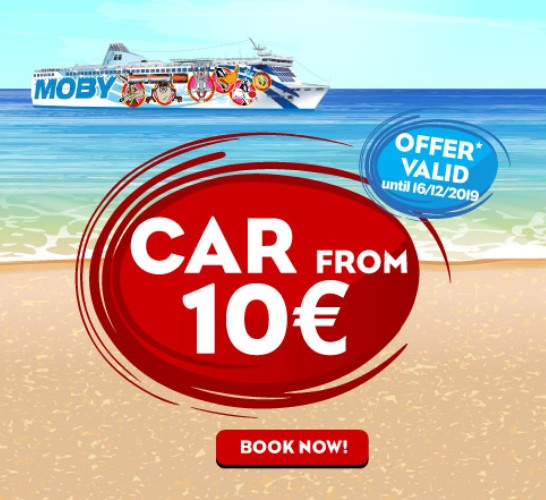 ---
Car returns to 10 euros for Sardinia, Sicily and Corsica with Moby and Tirrenia for 2020. The car fare at 10 euros is available in limited quantities and subject to availability of seats on the following routes: MOBY Sardinia and Corsica and on the TIRRENIA lines Genoa-Porto Torres-Genoa, Civitavecchia-Olbia-Civitavecchia, Naples-Palermo-Naples from 01/06/2020 to 09/30/2020, Genoa-Olbia-Genoa (Tirrenia) and Palermo-Cagliari-Palermo (Tirrenia ) from 07/21/2020 to 06/09/2020, Civitavecchia-Cagliari-Civitavecchia (Tirrenia) from 07/21/2020 to 09/30/2020 and Naples-Cagliari-Naples (Tirrenia) from 07/21/2020 to 9/4/2020,
The offer applies only to cars up to 5 m and with height within 2.20 m. and provides for free taxes and vehicle rights. The ticket with the special car price at 10 euros can be modified with the following penalties:
- each modification involves the payment of a penalty, per way, equal to € 25.00 for Sardinia and € 10.00 for Corsica, as well as any tariff differences. The penalties indicated above will also be applied in the event of a passenger name change.
- A ticket issued with a € 10 car is not refundable, even partially. In the event of cancellation, the ticket will be subject to a penalty equal to the total amount paid. This scheme automatically extends to all passengers added to the same booking process.
- Offer not retroactive or combined with other offers or promotions.
- Vehicles subject to promotional initiatives, unless otherwise specified, are always cars within 5 m of length and 2.20 m of height. All vehicles - used for transporting goods (with or without cargo) - do not access promotional initiatives. In general, vans and pick-ups are not considered cars.
- When accessing a promotion that includes the booking of a vehicle in tow, the boarding personnel will check the actual transport of this vehicle. If the latter is absent, the client will be required to pay a penalty.
- The penalties generally correspond to the cost of the maximum tariff present in our price lists.
- In principle, special offers cannot be purchased directly at the port on the day of departure but must be booked.
Book now the car promotion for 10 euros !!!
---