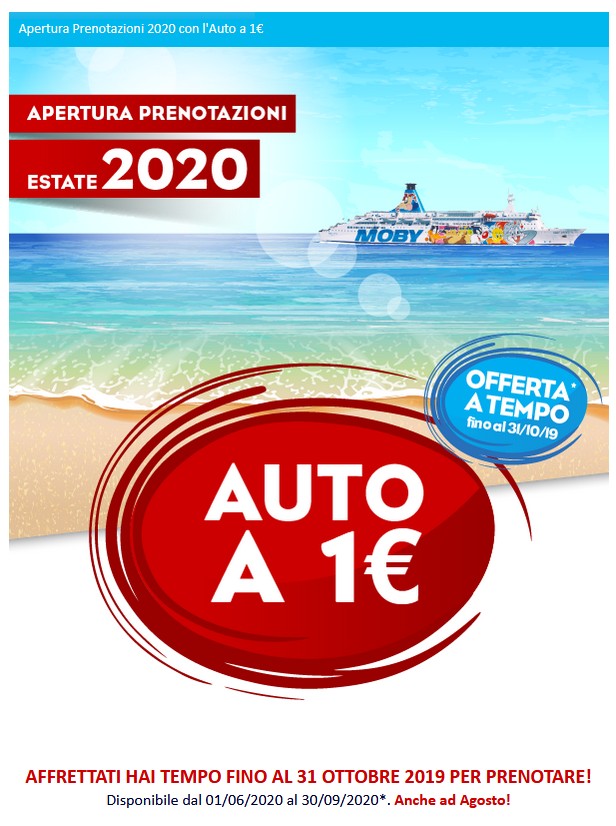 ---
Bookings are open for Sardinia, Sicily, Corsica, Elba island of the Moby group, Tirrenia and Toremar for 2020 with the return of the car to 1 euro. The car fare at 1 euro is available in limited quantities and subject to availability of seats for it on the following routes: MOBY Sardinia, Corsica and on the lines TIRRENIA Genoa-Porto Torres-Genoa and Civitavecchia-Olbia-Civitavecchia from 01/06/2020 to 09/30/2020. Pre-registration must take place on November 18th.
The offer applies only to cars up to 5 m and with height within 2.20 m. and provides for free taxes and vehicle rights. The ticket with the special car rate at 1 euro can be modified with the following penalties:
- each modification involves the payment of a penalty, per way, equal to € 25.00 for Sardinia and € 10.00 for Corsica, as well as any tariff differences. The penalties indicated above will also be applied in the event of a passenger name change.
- A ticket issued with a € 1 car is not refundable, even partially. In the event of cancellation, the ticket will be subject to a penalty equal to the total amount paid. This scheme automatically extends to all passengers added to the same booking process.
- Vehicles subject to promotional initiatives, unless otherwise specified, are always cars within 5 m of length and 2.20 m of height. All vehicles - used for transporting goods (with or without cargo) - do not access promotional initiatives. In general, vans and pick-ups are not considered cars.
- When accessing a promotion that includes the booking of a vehicle in tow, the boarding personnel will check the actual transport of this vehicle. If the latter is absent, the client will be required to pay a penalty.
Book now the car promotion for 1 euro !!!
---