Ferry to Durres - Trieste, Albania
Durres
Information about Durazzo
Durrës is located on the west coast of Albania on the Adriatic Sea. It is about 35 km from Tirana, the Albanian capital, and 30 km from Tirana International Airport. The city is located on the coast in one of the narrowest points in the Adriatic Sea with the Italian port of Bari about 300 km away and Brindisi 200 km away. Durres is one of the largest cities as well as the largest port in Albania. It is also one of the oldest cities whose origins date back to 627 BC. The city is home to the Durazzo Ancient City Wall also known as Durazzo Castle, while the largest Balkan amphitheater is located in the city near the port. This first-century building is currently undergoing research to be declared a UNESCO World Heritage Site. Some important buildings in Durres are its main library, the cultural center with the Moisiu Aleksandër Theater, the Estrada Theater, the marionette theater, and the philharmonic orchestra. There are also several museums, such as the Archaeological Museum, Villa Reale and the History Museum (the home of Alessandro Moissi).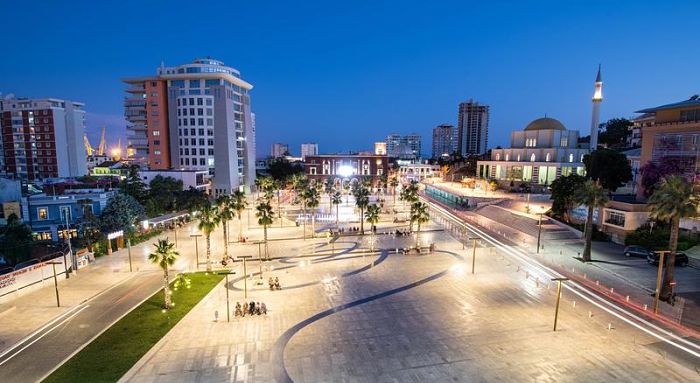 Trieste
Address of the port of Trieste
Trieste (Trieste in Trieste, Trst in Slovenian) is an Italian city of 204 257 inhabitants, capital of the Friuli-Venezia Giulia region.
Trieste is home to the UI Giuliana of which it is part with the municipalities of Duino-Aurisina, Monrupino, Muggia, San Dorligo and Sgonico for a total of about 240 000 inhabitants, while its metropolitan area has about 410 000 inhabitants. Following the suppression of the province, the municipality of Trieste (like that of Gorizia, Pordenone and in the future Udine) still maintains the prerogatives connected to the status of "provincial capital".
The free port was maintained, with the name of Free Port of Trieste, also in the peace treaty between Italy and the allied powers of 1947 with which the Free Territory of Trieste was established, and later also in 1954, when the The Allied Military Government ceded the civil administration to Italy by virtue of the London Memorandum. Today it is an international hub for land-sea exchange flows between Central and Eastern European markets and Asia. Uninterruptedly since 2013, Trieste is the first port in Italy in terms of the total volume of goods in transit, with more than 56 million tons.