Ferry to Durres - Ancona, Marche
Durres
Information about Durazzo
Durrës is located on the west coast of Albania on the Adriatic Sea. It is about 35 km from Tirana, the Albanian capital, and 30 km from Tirana International Airport. The city is located on the coast in one of the narrowest points in the Adriatic Sea with the Italian port of Bari about 300 km away and Brindisi 200 km away. Durres is one of the largest cities as well as the largest port in Albania. It is also one of the oldest cities whose origins date back to 627 BC. The city is home to the Durazzo Ancient City Wall also known as Durazzo Castle, while the largest Balkan amphitheater is located in the city near the port. This first-century building is currently undergoing research to be declared a UNESCO World Heritage Site. Some important buildings in Durres are its main library, the cultural center with the Moisiu Aleksandër Theater, the Estrada Theater, the marionette theater, and the philharmonic orchestra. There are also several museums, such as the Archaeological Museum, Villa Reale and the History Museum (the home of Alessandro Moissi).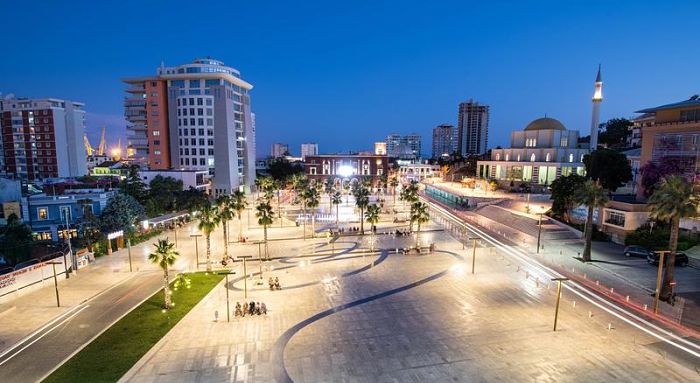 Ancona
Information about Ancona
The port of Ancona is the first Italian port for international traffic of vehicles and passengers, with more than 1.5 million passengers and 200,000 TRUCKS every year, and one of the first in the Adriatic for goods.
The regional capital, Ancona directly overlooks the sea and has about 100,000 inhabitants. Its geographical position, situated on a promontory of Monte Conero, makes it a port city projected towards the Balkans. Founded by the Greeks, the city of Ancona grew considerably when the emperor Hadrian expanded the small harbour. After becoming Byzantine rule first, and then a free city, was one of Republics.
In 1532 he became part of the Papal States. The soul of the city is definitely the port. Of strategic importance for the traffics always Adriatic port of Ancona is one of the landmarks for the city's economy.