Pianosa
Info on Pianosa
The island of Pianosa, in Italy, is the fifth largest island in the Tuscan Archipelago, with an area of 10.3 square meters. Km and a coastline of about 18 km. It is about 13 kilometers southwest of the island, made famous by Napoleon. The name gives a clue of Pianosa island's geography. Flat, in fact, refers to the plains of the island, whose highest point is 29 metres above sea level.
The island is part of the Tuscan archipelago National Park (National Park of the Tuscan archipelago), and is protected from external interference, property speculation and environmental damage. The protection of the island and its wildlife are so important that you can't visit it without a special permit that is issued by the management of the Park. Fishing is prohibited within 1 mile navigation from the coast.
Piombino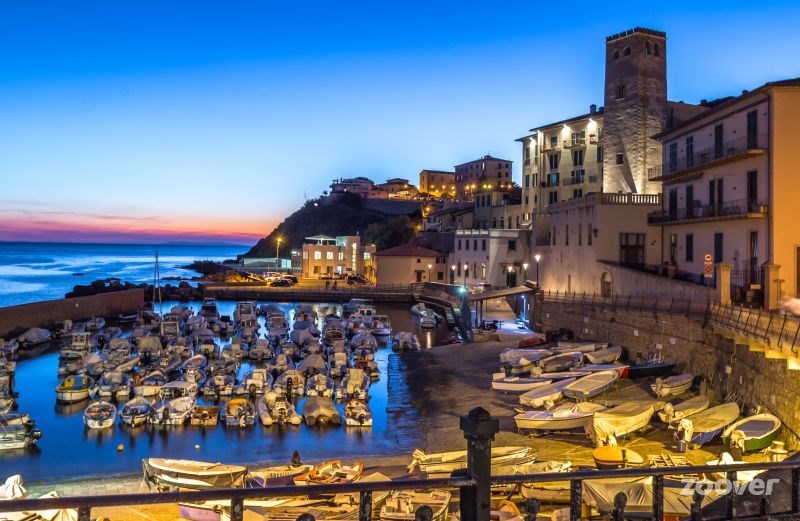 How to reach the port of Piombino
By car: From the north: A12 Genova-Livorno motorway, Rosignano exit. Continue on the Livorno-Grosseto highway to Venturina. Enter the S.S. 398 and follow the signs for Piombino-porto.
From the north-east: A1 Motorway Bologna-Florence-Pisa-Livorno; exit at Rosignano, continue on the highway to Venturina. Enter the S.S. 398 and follow the signs for Piombino-porto. Alternatively, the S.G.C. Florence-Pisa-Livorno: exit at Firenze Signa and follow the S.S. up to Collesalvetti, get back on the motorway to Rosignano Marittima, follow the highway to Venturina.
From the south: Roma-Civitavecchia motorway, continue on the highway to Grosseto, Venturina exit. Enter the S.S. 398 and follow the signs for Piombino-porto.
To reach the port, turn left at the intersection near the entrance to Piombino and follow the signs.
By train: Piombino has two stations: Piombino train station and Piombino Marittima train station.
The latter is located opposite the port of Piombino.
From Piombino Centrale station there is a fast connection to Piombino Marittima (about 3 minutes).
Park at the port of Piombino
Before arriving at the port there are paid parking lots for cars, motorbikes and campers. The parking lots are located behind the port, one of the parking lots is with direct access to the maritime station. Prices start at 5 euros per day in low season up to 10 euros in summer. for information on availability and costs you can contact the following numbers. Tel. 334.3469514 (Luigi) or tel. 347.1363157 for the Alvin Parking, tel. 338.7000811 for the Port Authority.