Mariehamn (Åland Islands)

Information about Mariehamn
Mariehamn is the capital of the autonomous province of the Åland Islands with 11.286 inhabitants (2012 data), and is located on the island of Fasta Åland.

Mariehamn is home to the government and parliament of Åland and 40% of the population lives in the capital. As for the rest of Åland Mariehamn is Swedish speaking; Finnish is taught in schools, but it is not an official language.

The city is named after Marija Aleksandrovna, empress consort of Alexander II of Russia. Mariehamn was founded in 1861, around the village of Övernäs, which at the time belonged to the municipality of Jomala. Mariehamn expanding has incorporated other territories of the neighboring municipality. The capital is located on a peninsula, and has two major ports, located on the east and west coast.
The western port is a marina, while the eastern port is very important for its international airports which connect Åland daily to Sweden, Finland, Estonia and Latvia. Ships sailing the Baltic, stopping at Åland, enjoy tax relief due to the fact that the latter is not part of the European customs union, thus making it possible to tax-free sales on board the vessels. Mariehamn International Airport (MHQ) is located in the neighboring municipality of Jomala, 3 kilometers northwest of the city center.

Åland and Mariehamn have a respectable heritage at sea. The Flying P-Liner Pommern ship, now a museum ship, is anchored in the western port. In the western port one can visit one of the largest marinas in Scandinavia. The popular Dutch steamer Jan Nieveen (now called F.P. von Knorring, pub-restaurant) is located in the western port.
Helsinki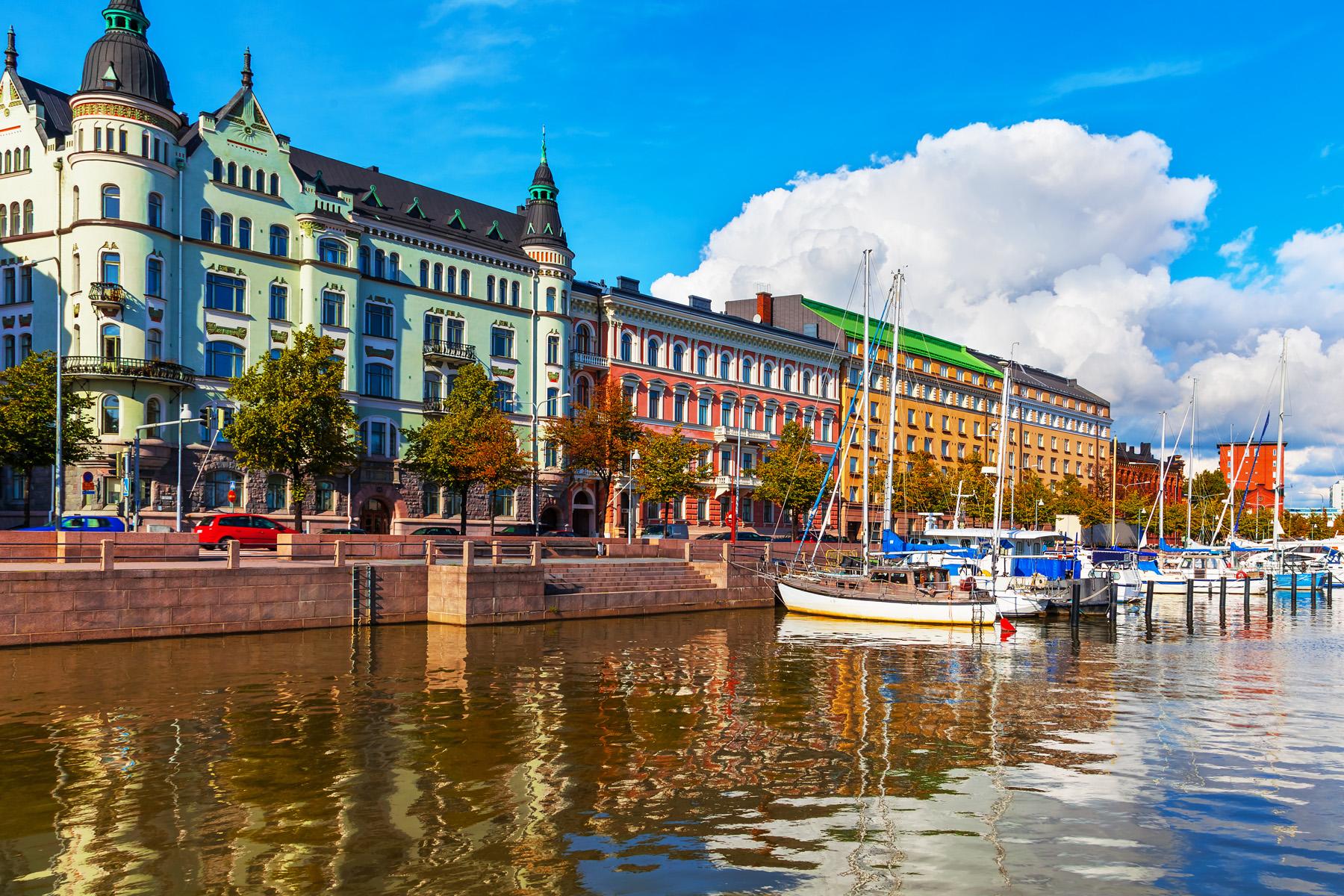 How to reach the port of Helsinki
There are 3 terminals to the ferry port of Helsinki.

Helsinki Olympia terminal (South)
Is used for ferries in the direction of Stockholm: Olympia terminal is about 1.8 km from the Centre of Helsinki, 179 Km from Tampere and 166 from Turku. From Tampere to Helsinki and Turku take E12 E18.

Helsinki West Terminal
Used for the ferry to Tallinn, the West terminal is located approximately 2.4 Km from the Centre of Helsinki, 179 km from Tampere and 166 Km from Turku. From Tampere prenid the E12 towards Helsinki and from Turku E18.

Helsinki Vuosaari, Hansa Terminal (East)
Used for ferries to Rostock, the Hansa Terminal is located 16kms from Helsinki Centre. Take road # 170/Itäväylä, turn left to Meripellontie and then follow the signs to the ferry terminal.