Ferry to Ibiza (Sant Antoni) - Barcelona, Baleares
Sorry, there are currently no departures on this route.
Ibiza (Sant Antoni)
Sant Antoni de Portmany is a city on the west coast of Ibiza, one of the Spanish Balearic islands. It is known for its vibrant nightlife and the large natural harbor, the bay of Sant Antoni. The seafront stretches from the port to the beaches of S'Arenal and Es Pouet, both with calm and shallow waters. Between the two beaches is located Sa Punta des Molí, heritage of humanity, where there are a windmill, a press for olive oil and a small botanical garden.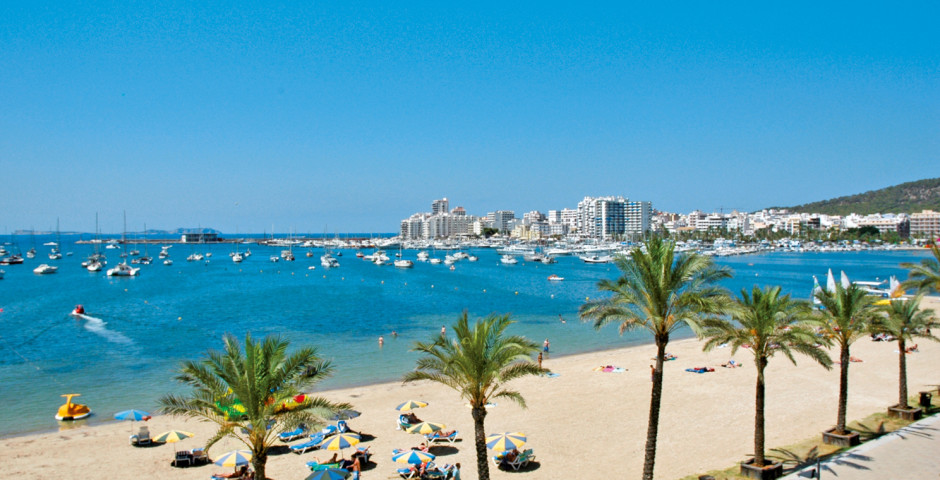 Barcelona
How to reach the port of Barcelona
By car: coming from Ronda Litoral, take Exit 21 Ciutat Vella (Paral.lel, Las Ramblas, Montjüic, Port Vell).
Once you arrive at Plaza de la Carbonera, continue straight on towards del Muelle de Costa.

By Metro: the Metro Drassanes (L3) or Paral.lel (L2/L3) you can reach the bus stop at Portal de la Pau (near Estatua de Colon, behind the palazzo della Dogana-"Aduanas")

By bus: daily runs from Portal de la Pau (near Estatua de Colon, behind the palazzo della Dogana) Ferry Terminal.

Information about Barcelona
0 how to reach the port of Barcelona 2 by car: coming from Ronda Litoral, take Exit 21 Ciutat Vella (ParalLEL, Las Ramblas, Montjüic, Port Vell)
Once you arrive at Plaza de la Carbonera, continue straight on towards del Muelle de Costa

By Metro: the Metro Drassanes (L3) or ParalLEL (L2/L3) you can reach the bus stop at Portal de la Pau (near Estatua de Colon, behind the palazzo della Dogana-"Aduanas")

By bus: daily runs from Portal de la Pau (near Estatua de Colon, behind the palazzo della Dogana) Ferry Terminal

0 information about Barcelona 2 Barcelona is among the most visited and loved by the young and cultural tourism Spain's second city but first centre of Catalonia, Barcelona is a city that overlooks the sea from the many and contradictory souls Catalan is the most remarkable and soul makes a city jealous of its culture and traditions The cosmopolitan Barcelona is always open to foreign trends, landed with a very active Harbour, today a destination for many Mediterranean cruises and proximity of national borders and interpreted here in an original way
Tourists reaching Barcelona discovers a city where ancient and modern at the same time, to popular representations of Catalan Gothic alongside spectacular expressions of modernism, and where the juxtaposition of an old fishermen's quarter and a modern Olympic city doesn't seem quite as irreverent The architectural and artistic masterpieces — along with tasty cuisine and nightlife among the liveliest-make Barcelona one of the favorite destinations of travellers who reach Spain