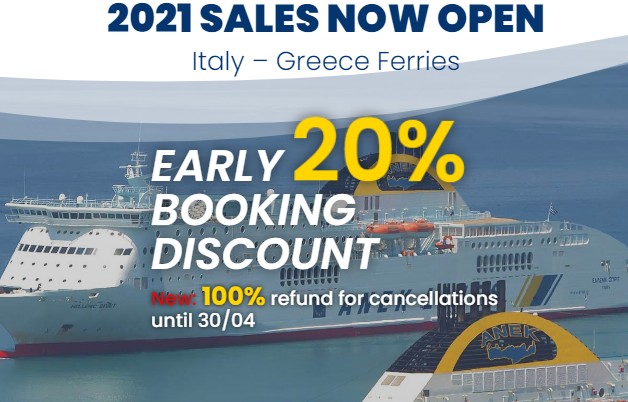 ---
The Anek-Superfast discount applies to all new bookings for Greece made by 31 April 2021 and is valid for all departures with return by 31 December 2021.
The discount applies to all vehicles up to 6 meters and 2 m in height, cars with roof space over 2 m in height, trailers up to 2.00 in height and up to 2.50 in length ( luggage trolley), motorcycles. The discount does not apply to the Camping on board discount and to all other vehicle categories. For departures from Venice and Bari it also applies to those who opt for the Camping on board formula, camper and minibus included.
Reservations can be modified or canceled by May 31 without any penalty by Anek-Superfast. If you are asked to convert the ticket into an Open Ticket (open date ticket) and this request should take place after 30 April, the difference in fare with the full fare will be requested. Reservations canceled after April 30th will not be refunded. The ticket can be requested on an open date only for the return leg and in this case the discount will be calculated only on the outward leg. The Early Booking discount can be combined with all the other reductions indicated by the company with the exception of the child discount. Request a quote immediately by calling our call center which answers the number 050754492. Book now your ferry to Greece with the Early booking discount.