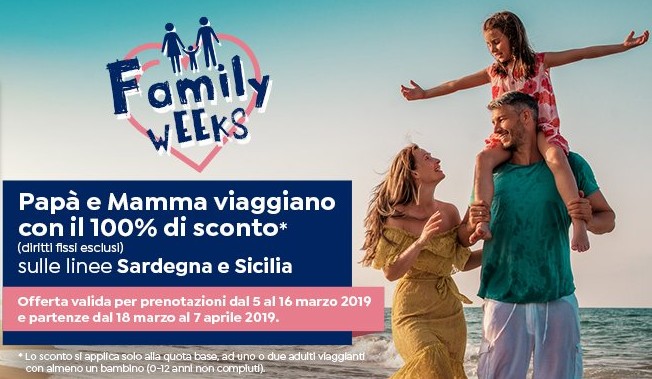 ---
The Family Weeks offer includes a 100% discount on the adult base fee (fixed fees excluded) for one or two traveling adults with at least one child (0-12 years old). The rate provides for the payment of the basic child fee, the basic fee of any other adult passengers (third, fourth, etc.), fixed fees, possible cabin surcharge, any vehicle in tow.
Validity of the offer.
The offer is valid for bookings made from 05 to March 16, 2019 for departures from March 18 to April 7 for the Sardinia lines (Civitavecchia - Porto Torres and Livorno - Olbia and viceversa) and Sicily (Salerno - Palermo, Salerno - Catania, Livorno-Palermo and vice versa).
The offer is valid for one-way or return journeys purchased at the same time.
The offer does not apply on the day of departure, it is valid for purchases up to the day before the chosen trip.
How to apply the offer
The offer is automatically applied to the "Promo Traghetti.com March" tariff level, if the conditions of applicability are met, ie 1 traveling adult with at least 1 child (0-12 years old) or 2 traveling adults with at least one child (0-12 years old).
Cumulability of the offer
The Family Weeks offer can be combined with other special offers, rates for residents / natives and conventions active at the time of booking, unless otherwise indicated in the applicable conditions of applicability.
Cancel and change tickets
The promotion has no retroactive effect. Tickets are non-refundable, except for those issued with resident / native rates, but may be changed to current conditions.
Special rates are subject to limited availability and may vary.
---