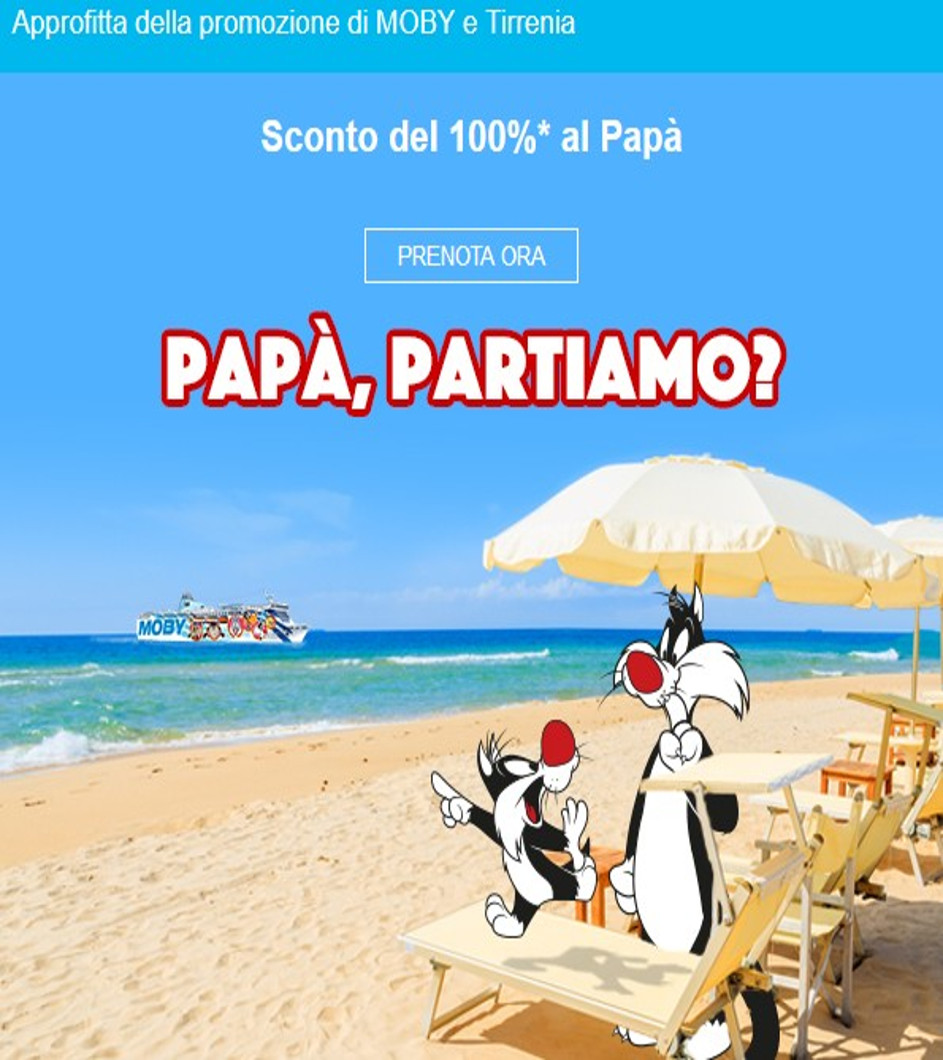 ---
Book formm the 16 till the 19th March and get a 100% discount on the passenger fare for fathers accompanied by at least one child for departures from 03/19/2019 to 12/31/2019.

A dad's love is as big as the sea!

 · The discount will be applied to the passenger fare of an adult "dad" per ticket, net of taxes, fees and duties.

· To get the discount it is necessary that the "dad" book at least one child (4 to 11 years old) or an adult at the same time.

· Reservations must be made from 03/16/2019 to 03/19/2019, for destinations MOBY or TIRRENIA (excluding Tremiti) in the period from 03/16/2019 to 12/31/2019, subject to availability of seats reserved for the initiative , on most departures (the promotion is also valid on some August departures).

· The discount will be recognized only on the purchase of MOBY or TIRRENIA tickets.

· The discount can only be used on nominative tickets.

· The discount will be applied exclusively to obtain a reduction on a new ticket, not on a modification.

· The offer is not retroactive.

· If the adult or child cancels, the discount for the father also automatically lapses.

· Should the ticket be canceled or modified, the validity of the discount will also automatically lapse.

· The discount can be combined with all the MOBY or Tirrenia special offers, but not with other tickets, vouchers or vouchers issued for other initiatives, with offers proposed by other operators, with group rates or special agreements.

· For Elba, Bonifacio (Corsica) - Santa Teresa di Gallura and v.v. tickets, the offer cannot be purchased directly at the port.

· The ticket can be modified only for Sardinia, Corsica and Sicily destinations. Each modification involves the payment of a penalty, per way, equal to € 10.00 (Corsica) or € 25.00 (Sardinia - Sicily), as well as any tariff differences. The penalties indicated above will also be applied in the event of a passenger name change. Notwithstanding the above, for the Island of Elba and for the S. Teresa-Bonifacio and v.v. leg, the ticket cannot be changed (not even a change of name).

· In the event of cancellation, the ticket will be subject to a penalty equal to the total amount paid. This scheme automatically extends to all passengers added to the same booking process.

If the assistance staff at the ports should detect anomalies in the reservation, compared to what is present at the boarding, the discounted ticket will be canceled and a new full-fare ticket must be purchased.